---
What's On at the Open Day
---
The Chedington Court Estate has grown significantly over the past few years and the Open Day will provide a fantastic opportunity for visitors to see everything we have to offer. Between the hours of 10am and 4pm on Saturday 27th May, visitors will be able to walk around the properties and grounds of the Estate at their own leisure. Our team will be on hand to showcase the facilities at The Grange, Lower Chapel Marsh Farm and North Buckham Farm. A map will be available to enable visitors to visit all three sites on foot and tractor trailers will be on hand to transport visitors between sites on the Estate as well as back to the car park. Please see below for a brief look at what visitors will be able to explore on the day:
1. Indoor Arena at The Grange - currently home to New Zealand Olympians Tim and Jonelle Price, our indoor arena is 30 metres by 70 metres and houses 32 horses. 
2. Wellness at The Grange - our retreats are run by Richie Norton and Tamara Harnett, who offer a wide range of wellbeing experiences for individuals and corporate clients.
3. Chedington Weddings at The Grange - our stunning venue can accommodate wedding parties of up to 220 guests with multiple ceremony locations.
4. Chedington Equestrian at Lower Chapel Marsh Farm - home to a number of elite riders, including Christopher Burton, Tim and Jonelle Price, Antonio Cejudo, Eneya Jenkins, Cosby Green and Ellie Guy, Chedington Equestrian boasts an enviable range of elite training facilities.
5. The Flock at North Buckham Farm - we have approximately 700 breeding ewes and 600 lambs on the Estate as well as a small beef herd. Visitors can meet shepherd Marcus on the Open Day.
6. Chedington Compost at North Buckham Farm - we produce high quality compost, manure, mulch and wood chippings which fits into a strong cycle of agricultural activity here on the Estate.
7. Biochar at North Buckham Farm - visitors will be able to learn all about the process of making biochar with a live demonstration and further information available at North Buckham Farm.
8. Cross Country Course at Lower Chapel Marsh Farm - part of the impressive array of equestrian facilities at Chedington Equestrian, visitors will be able to get up close with the top-end course designed by Mike Etherington-Smith.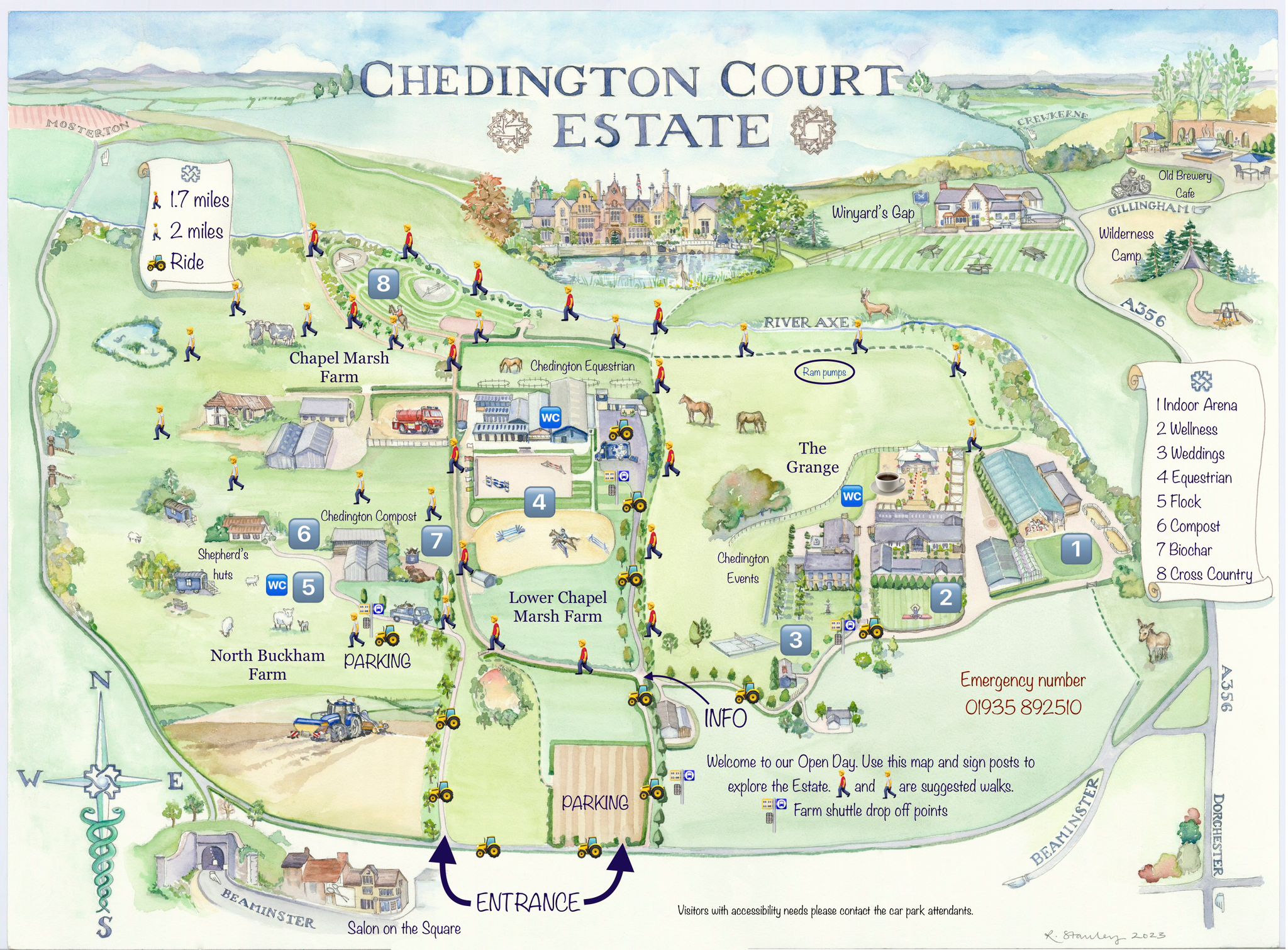 Accessibility
Much of the open day will take place outside and will involve walking around and between sites. As part of the Estate is based on a working farm, the ground may be uneven in places and therefore may be unsuitable for some visitors. An accessible toilet is available at The Grange.
Well-behaved dogs are welcome but must be kept on a leads at all times. Dogs are not allowed inside any of the properties or site buildings or where there is livestock or horses.
If you have accessibility needs and are planning to attend the Open Day, please reach out to us in advance via email at office@chedington.co.uk so that we can do our best to make the necessary accommodations where possible.
Supporting Weldmar
A raffle will be held in aid of Weldmar Hospicecare and tickets will be available to purchase on the day. We have a fantastic array of prizes, including a one night stay at The Winyard's Gap Inn and a two night weekend stay at one of our Shepherd's Huts at North Buckham Farm.
---