Land Management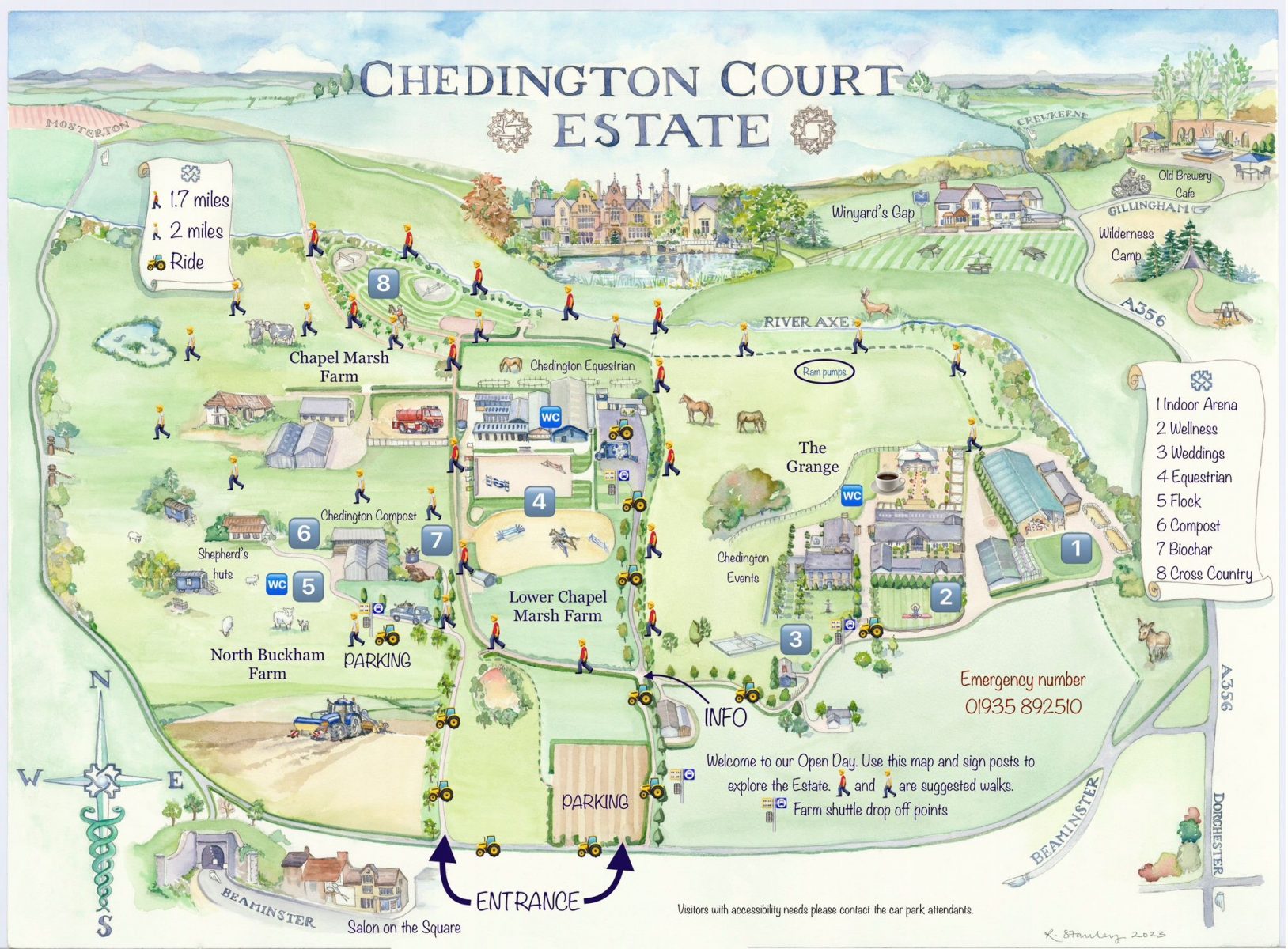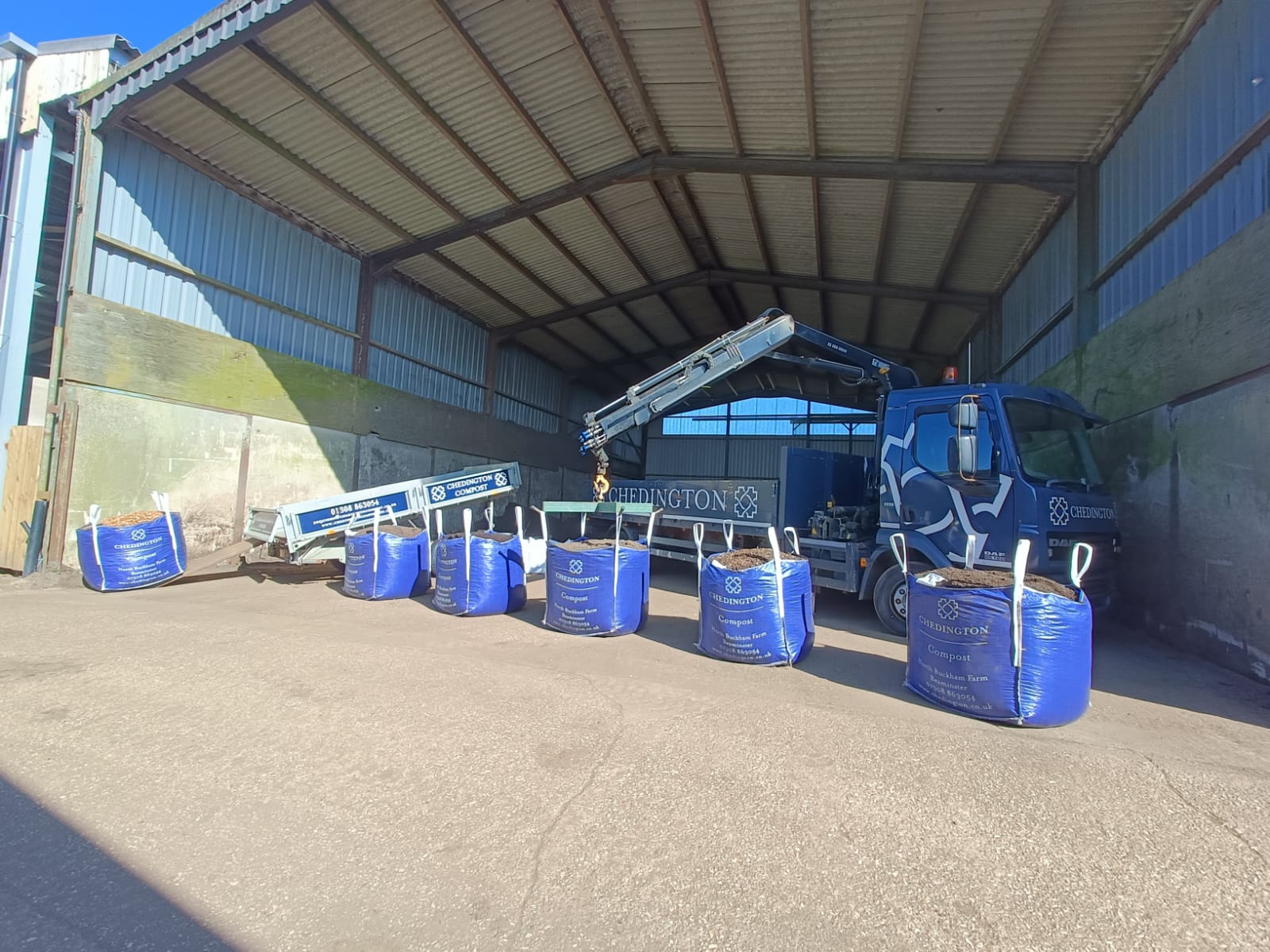 Time really does fly by when the sun shines. It only seems like yesterday that I was putting pen to paper for our spring newsletter and the rain just kept coming. Since then we have had the most glorious start to the summer which has allowed the team to get on top of the maintenance across the Estate. The lawns are back to looking like bowling greens and the cross country course is back to looking at its best. All of this takes a huge effort on a weekly basis by the team and we all really take pride in keeping the Estate in tip-top condition which was showcased in our hugely successful Open Day in May. It was amazing to see so many people come and enjoy the freedom to look around and to see what we have built up and achieved in the last 5 years.
With the weather on our side the time of year has come again to make our hay and haylage for the next 12 months. We have had a fantastic first cut and from 105 acres we have produced 563 bales (approx 300 tons) of feed for the horses, sheep and the cattle. Hopefully when our fine diners come to sample our meat later in the year it will be to their taste!
It was lovely for Geoffrey to join me in the tractor for a few hours to help with the mowing. He is certainly becoming an old hand at it now, it's just a shame that due to other commitments he doesn't have much spare time, but there is always a second cut!
Our Chedington beef animals are growing really well and we now have a steady stream ready for Winyards and The Old Brewery Cafe. We have had great feedback from customers who have really enjoyed eating it.
Marcus finished lambing in early May and after many long hours and many sleepless nights it turned out to be his best lambing yet. Once born the lambs were soon out in the fields and have been growing well ever since. As I write this Marcus is enjoying a long overdue holiday, hopefully he and Lucy will come back fully rested, ready to take on the lambing of our Dorset Horns in September!
As many of you know Tim and Louise have moved on from running the compost business and are ready to start their next chapter in pastures new. I would like to thank them for all their hard work and wish them every success and happiness in the future.
I would also like to wish Harry every success in his new job of taking on the running of the Chedington Compost business.
~ James Vickery
---
Estate Management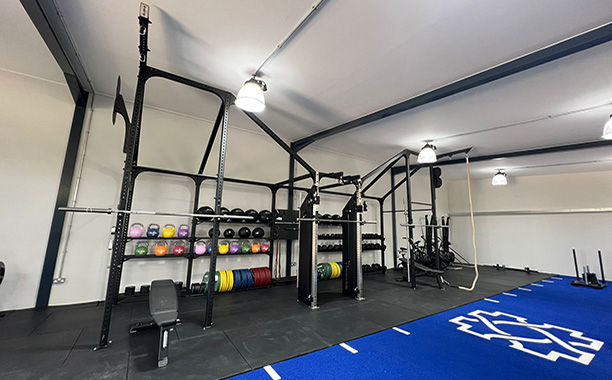 Well where has the time gone! It only seems like yesterday that we were coming into spring.
We enjoyed an extremely successful Estate Open day in May. The weather was fantastic and the feedback from those attending was very positive, making what we all do so worthwhile.
We have been busy completing the works on the new stabling and for Ellie's tack room and wash bay ready for her arrival. We have also nearly finished the refurbishment works needed on the red brick barn. Ellie and her groom Kelsie have also settled into their new abodes with their mobile homes being installed at Chapel Marsh Farm.
The gymnasium at The Grange has been completed with Richie and Tamara making good use of it over the last few weeks. We look forward to seeing their exciting plans come into fruition!
The works on the first phase of the car park at The Old Brewery in Gillingham have started and this should see a vast improvement in the foot fall to the café with the additional parking now available.
I am sure you will all congratulate Harry on his decision to take on the Chedington Compost business following Tim and Louise's departure to whom we would like to thank for building the business up to where it is now and wish them both well going forward.
Oscar has been busy with organising and distributing the beef, lamb and pork across the Estate. This has been made possible by James Vickery and the team doing such a great husbandry job with bringing on both the beef and lamb.
We will soon have the outside catering trailer up and running which will be mainly based in the beer garden of the pub serving food directly from it which will take the pressure off the kitchen through the summer months.Away from that Oscar will be available for hire with the trailer to hold private events for fine dining.
Ricky and his team have all been busy with the growing on and planting of not just the cut flowers but also the fruit and vegetables that he and his team are producing for the pub, The Grange and its various events that are going on there like the Chedington Events/AdaptXplore, the Ferrari stays and the weddings.
Keep up the good work everyone, the name is getting out there!
~ Colin Maddock
---
Chedington Equestrian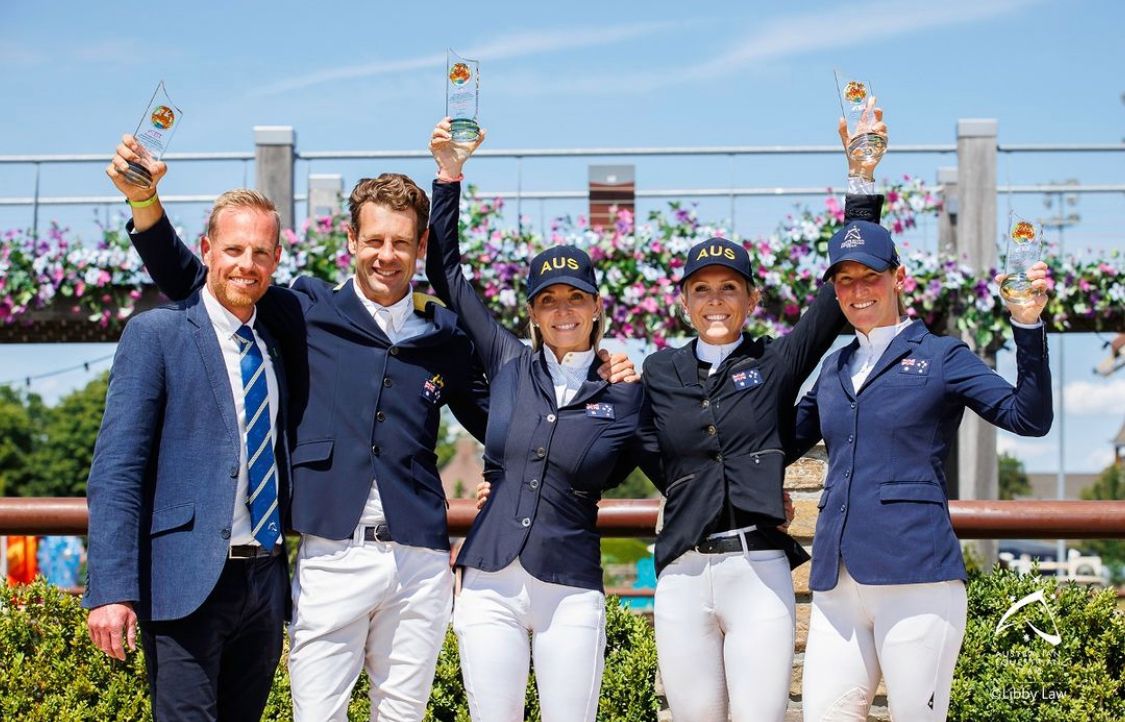 Lower Chapel Marsh Farm, Beaminster
As always the yard continues to expand and upscale and this summer we have seen most of that happening over at Chapel Marsh Farm. The old Motorbike Barn was fabulously refurbished and is now home to Ellie's team of horses. The 'Home Yard' stables at Chapel Marsh Farm are almost complete and will give us 11 more stables to utilise.
We of course had the Open day in May which was a huge success on the yard. Thank you to everyone who put in so much effort to show it off at its best. Everybody who came through was blown away by the facility and it was a proud day being able to show it off.
We have welcomed Emma Manton and her team of 4 horses to the yard. She got off to a good start with an international win out in Ireland. We farewelled Eneya after being with us for nearly 3 years. She has moved closer to London to be near family.
Team Price continue to dominate the eventing world with Tim notching up another top 10 place at Badminton and a win in the Nations Cup at Millstreet. Cosby had a great run in the Nations Cup also and picked up her first win on British soil. Chedington Hazy Toulana had a fantastic show at Bolesworth with a 4th and 2nd in the the Longine Ranking classes. They had their first Australian Team appearance at the Olympic qualifier in the Netherlands, see photo above.
Chedington Equestrian are proudly sponsoring the July International show at Chard and the Area Trial and Bicton. Chard and Bicton do a great job putting on quality shows in the West Country and it is great to be able to show our support.
The team all have a number of international shows coming up, we wish Ellie luck in Holland, Ireland and London, Chris in Holland, Belgium and London and Team Price and Cosby in Ireland.
~ Bek Burton
Pitts Farm
Late Spring early Summer (when it arrived!) has been a very busy time at Pitts Farm. Tidying the fields that suddenly spring to life, which seems sometimes like painting the fourth bridge! As I'm sure you all know.
We've had Simon Williams back for fencing and it looks very smart as always, we've been clearing gateways and wood preserving the older fencing some of which I haven't seen for years!
It's wonderful to see the horses in the fields and for the most part enjoying the sunshine and relaxing. The resting race horses enjoying a well earned break, getting out of bed in the morning can sometimes be a problem for the teenagers.
Excitingly we have been teaching (helping) the two year old show jumpers to find their natural instinct to jump and they certainly found it.
We trained them mainly at home in our fantastic school and then after a couple of months loaded them up and took them to the indoor arena at Chedington to be filmed by Paul Tapner for Ellie Guy Equestrian. They were all very well behaved for youngsters thanks to our team here, Gemma, Katie, Megan and Jack.
~ Vicki Lewis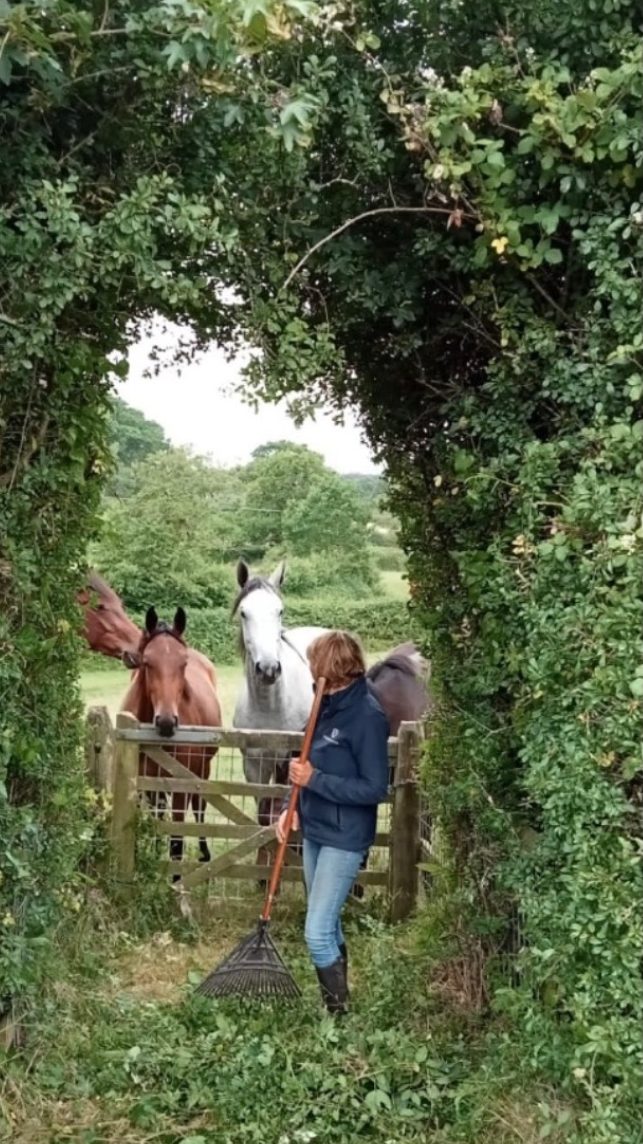 ---
Events at The Grange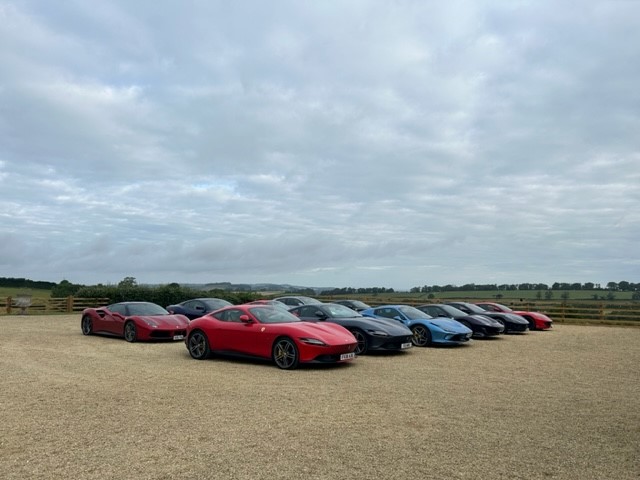 An exciting start to the summer with lots of events and bookings over the last few months and many more to come. We've welcomed a whole host of new people to the houses at The Grange, plus our longest returning guest Bob and his family were back again this year for a relaxing week stay. We're looking forward in particular to hosting guests from Chard Equestrian in The Grange within the next couple of weeks.
The wedding season is well under way with our first couple of the year getting married in June. Some amazing feedback from them already after really hard work from everybody and a special thank you to Lucy for all her help! We're looking forward to a busy August filled with weddings and have our fingers crossed for lots of sunny weather. We are of course always looking ahead to next year as well and are currently in the early stages of researching some wedding fairs to attend during the off-season.
We hosted a very successful coffee morning for Barnardo's which made use of the whole venue, with a number of different stalls throughout the barn. There was a great turn out and we hope to be able to work with them more in the future. In addition, our usual events in partnership with V Management have continued to run smoothly and garner some lovely feedback.
We've just recently completed a venue-wide photoshoot organised by Richie and Tamara. The wonderful results of this will be shared in full very soon and we look forward to being able to update the website and socials with some great new content.
Looking forward to the rest of a busy summer season!
~ Nadia Hassan
---
Hospitality
The Old Brewery Cafe & Kitchen, Gillingham
Summer is really underway here at the cafe with the gardens full most lunchtimes. Work to extend the car park has begun and even the background hum of the machinery hasn't dampened enthusiasm to eat outside with the birds and butterflies. Colin's team has done great work adding dashes of colour to the flower beds and we have recently rehomed about 50 goldfish in one of our ponds.
Our event bookings are starting to come in, especially since we hosted the Gillingham Twinning Association dinner for 90, which went down a storm! Our planning application is due to have a decision early August so we hope to be opening our restaurant a few evenings a week during September and are gradually building up our staff numbers in anticipation of some busy nights.
Our first corporate client hired our "Chedington Suite" for their training day and rebooked a buffet lunch for 18 as well. They loved it so much that they want to come back for their Christmas party and although it's hard to think about Christmas our adverts will be going out to press in the next few weeks. Time flies when you're having fun!
We have secured an additional source of bikes for display, other than just Geoffrey's bikes, so the collection on view changes more often than before. However our Gallery space is once again available for exhibition of local artwork and if anyone knows a budding artist who would like to use the space free of charge we look forward to hearing from them.
~ Laurel Phillips and Steve Angell
Winyard's Gap Inn, Chedington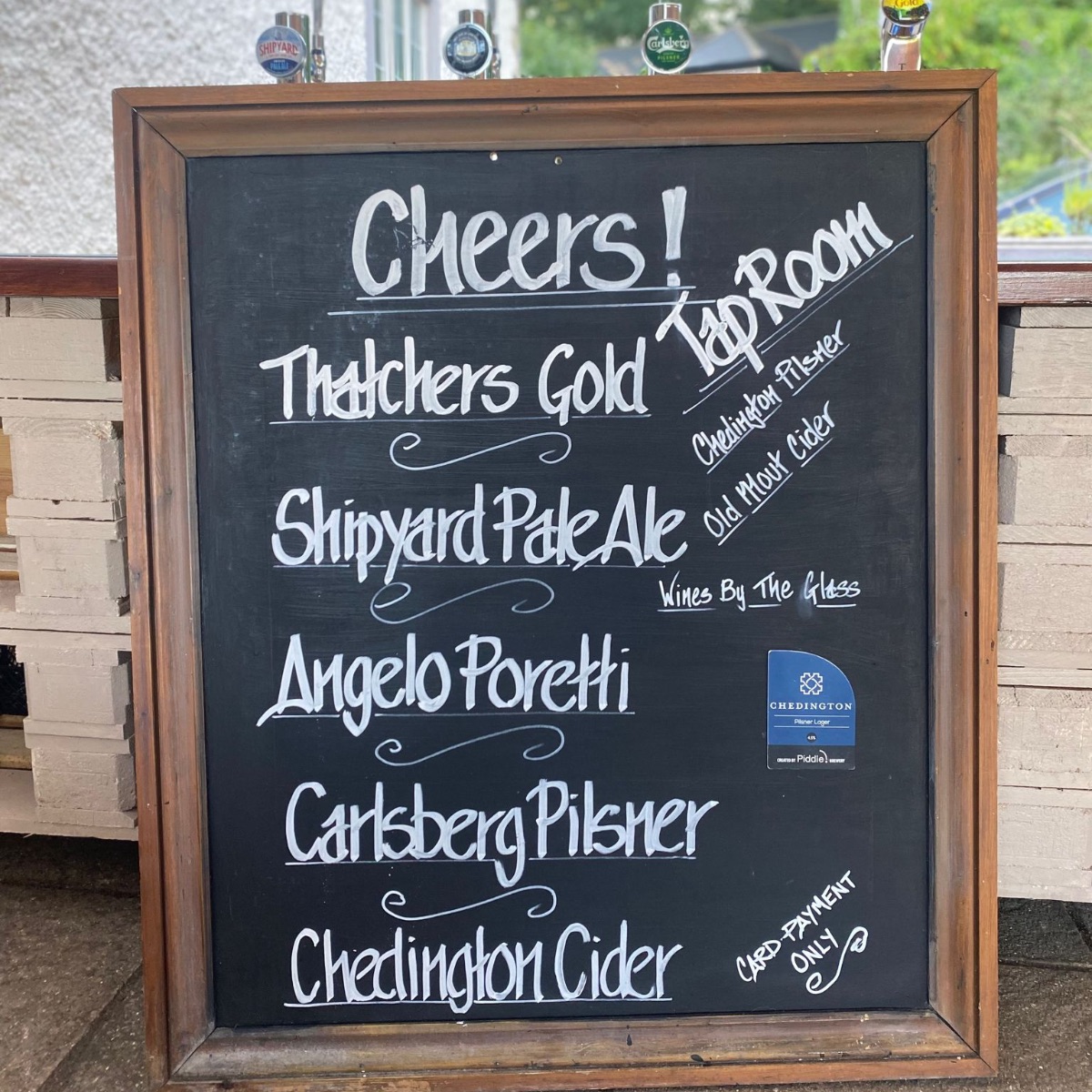 Although the weather has been somewhat temperamental these past few weeks, we are enjoying a busy summer at Winyard's Gap. We are now eagerly awaiting the install of our new trailer, which will be serving up some delicious new menu items to hungry diners in the garden. With the install now complete, we're also getting ready to open our new outside bar, which will serve a selection of products directly from the patio which we're confident will speed up service.
Here's hoping for some good weather in August so we can make the best use of both!
~ Lucy Ellis and Graeme Hillman
---
Pivot Productions
Pivot Productions continues to be the main supplier of live coverage of British Eventing Cross Country action to the Horse & Country TV channel. So far this year we have produced 8 days of live TV coverage for H&C, from 4 different venues: Thoresby, Burnham Market, Chatsworth and Bramham. In July we will be producing 2 days of live Cross Country action from Burgham BE event, followed by 2 days of live broadcast in the first week of August from Princess Anne's property, Gatcombe Park, for the Festival of British Eventing National and Open Championships. All of the broadcasting for H&C is behind their paywall, but a taster of what Pivot Productions creates for H&C can be viewed from this short video of Pippa Funnell's winning Cross Country round from Bramham International Event.
Pivot has also increased our workload for the other main equestrian channel, Clip My Horse, sub-contracting to Equestrian Pro, forming part of their team, so far producing 5 days of live coverage of BE Cross Country action from 2 different venues for Clip My Horse.
Pivot has also subcontracted in various roles at The Grand National Aintree Race meeting, The Royal Ascot Race Meeting, Goffs UK Racehorse Sales from Doncaster Racecourse and Kensington Palace. The unique nature of Pivot's weatherproof PTZ remote operated broadcast cameras is slowly opening up various opportunities with a multitude of venues and events. The Kensington Palace sale broadcast is here.
During July, Pivot also formed part of the team who live broadcast a Fashion Show in London and Pivot also formed part of the team who live broadcast The Formula Student motorsport event from Silverstone Race Circuit.
~ Paul Tapner
---
Salon on the Square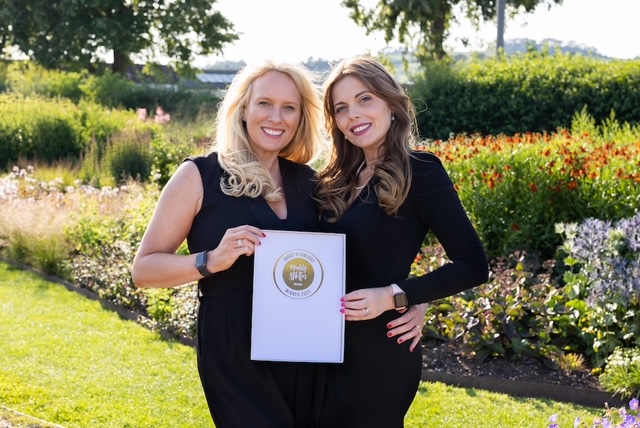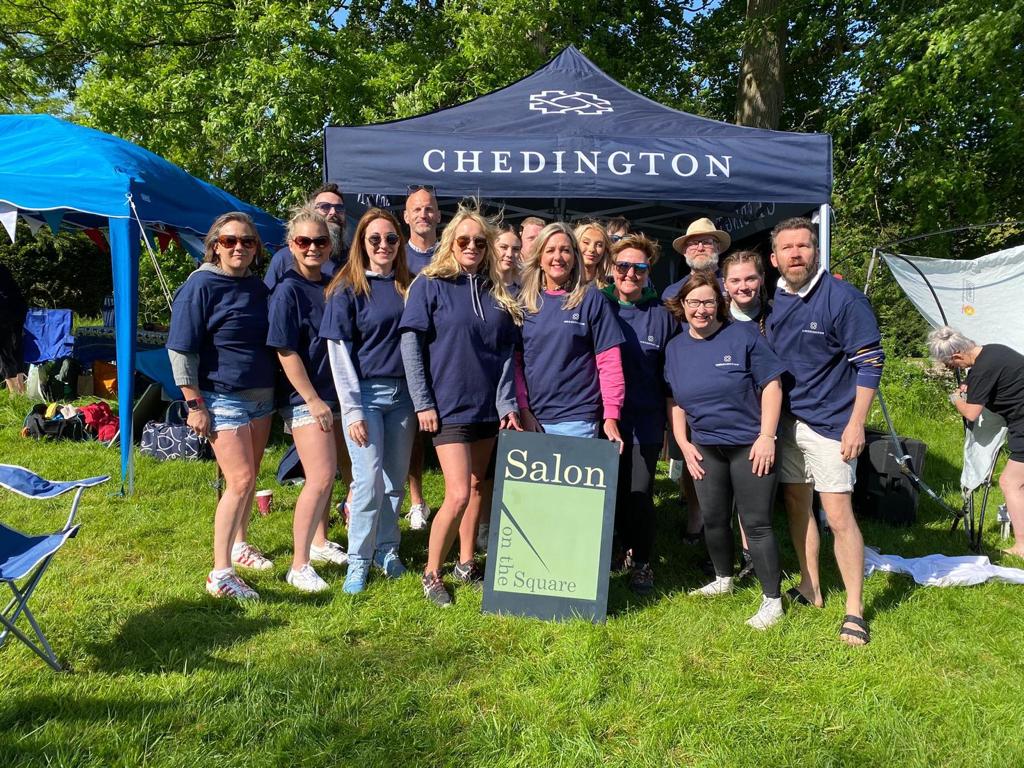 We have some exciting updates and news to share with you, so let's dive right in! We are absolutely thrilled to announce that Salon on the Square has won the prestigious Muddy Stilettos Award for Best Salon in Dorset, Somerset & Bristol for the second year in a row! We are incredibly grateful for your votes and could not have achieved this honour without your unwavering support. Thank you from the bottom of our hearts.
In other exciting news, SOTS recently participated in the Dragon Boat Race at Sherborne Castle Country Fair, and it was an incredible experience. The event brought us closer together as a team, and we are proud to announce that we secured the 10th position out of 21 teams. Not bad for our first time! It was a glorious day filled with teamwork and camaraderie.
Additionally, we are thrilled to announce the launch of our new booking App. This exciting addition gives guests another convenient option to book their appointments with us. Now, you can effortlessly schedule your hair and beauty services from the comfort of your own home or on the move. We aim to provide you with the utmost convenience and flexibility.
We also want to inform you about some significant renovations taking place. Our washroom is currently undergoing building and decorating work to enhance the overall salon experience. We apologise for any inconvenience caused during this time, but we promise the result will be worth the wait. Soon, you'll be able to enjoy an even more comfortable and luxurious salon environment.
Finally, we are delighted to announce that Salon on the Square now offers CLARINS beauty products and treatments. This collaboration allows us to elevate our beauty experience even further. With this increase in demand for our services we have recently added to our numbers and welcomed Leanne as our new beauty therapist. Leanne comes with a wealth of experience and expertise and has fitted right in with the team.
Thank you for being a part of the Salon on the Square community. We value your continued support and look forward to serving you with our enhanced services. Stay tuned for more exciting updates and offers in the coming months.
Wishing you a wonderful summer filled with beauty and relaxation!
~ Janemarie
---
A note from Kate & Geoffrey
On reading this Newsletter it would seem that we are busy on all fronts much of which was on show during our Estate open day. Kate and I were delighted to see so many members of our team, the Beaminster Young Farmers, Leweston School equestrian team and many local friends assisting in making the day simply spectacular. This was followed just two weeks later when we had record numbers of visitors to the Court for our annual open garden with proceeds to Weldmar Hospicecare. Both days were blessed with excellent weather.
Within the equestrian world Chedington is now a well recognised name through its sponsorship of top level domestic and international competitions in addition to our elite athletes training facilities. It is our intention to gain similar recognition for our Wellness retreats under Richie Norton's guidance. The new gym has attracted significant attention.
Congratulations to SOTS for their award, our riders for their superb competition performance and all the team for their hard work.
Once again Kate and I thank all of our team that continue to contribute to growing our modern upland Dorset Estate.
~ Kate and Geoffrey Guy
---
Chard Equestrian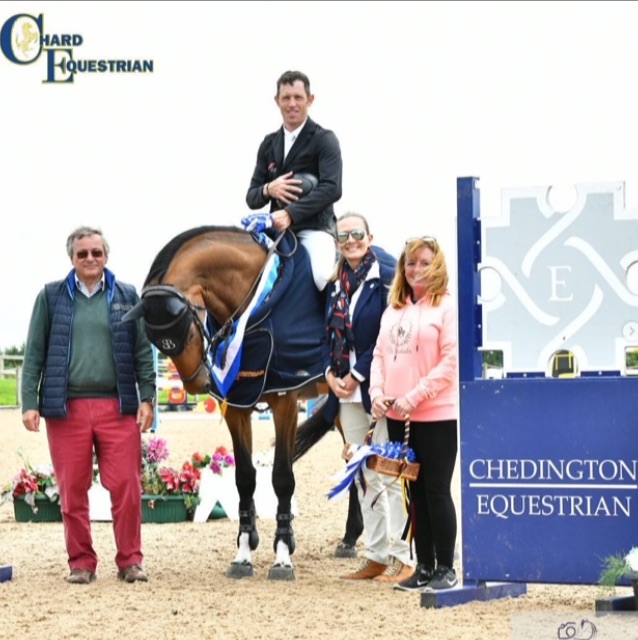 "Chard Equestrian were delighted to have received the support of Kate & Geoffrey Guy at the July CSI2* event with their sponsorship of a second ranking class. Despite the relatively short notice, their agreement to partner with Chard in this monumental way enabled them to reach a new level of two-star equestrian sport. Both Chard and Chedington share a passion for building the West Country's importance in UK and international showjumping, and this special collaboration has only served to elevate it further.
The team were very pleased to receive entries from Olympian Scott Brash, and thrilled to have him secure first and third place in the Chedington Grand Prix on the Sunday.
It was also an honour to see the last draw of the class, Faye Sutton, riding Lyonel D owned by Guy's Bloodstock, achieve a fantastic clear round – to finish fourth.
The officials for the event were kindly hosted by the Chedington Estate and this was appreciated by all, especially the foreign jury member who it is always important to impress, as she occupied the bridal suite at The Grange for her stay.
With discussions already underway for the many other ways that this partnership can flourish, the team at Chard are very much looking forward to next year's event."
~ Jane Gregory
Proprietor Chard Equestrian
---
Gallery